"Celebrando en tu Cocina con GOYA" convoca a concurso de video recetas
8 julio, 2023

LA GUÍA DE EVENTOS
11 julio, 2023
Entry deadline: July 15, 2023
Family Meals Serve Up Mental Health Benefits
Chula Vista, California — July 5, 2023 — Calling all home cooks and foodies to share favorite their favorite recipes by entering the "Celebrando con Goya en tu Cocina", video recipe contest as a reminder that sharing meals together is a great way to improve family connections. Goya Foods and Celebrando Latinas have partnered to encourage families to share meals with loved ones, to slow down and connect, especially with children. Research shows that regular meals as a family positively affect self-esteem, academic performance, and the overall well-being of children and adolescents.
Home cooks are encouraged to share some magical family moments from their kitchens and send a video showing off their cooking skills and favorite recipe for a chance to win. Winners will receive tickets to Celebrando Latinas 2023, and all-day conference, to be held on August 5, 2023, at the Hilton San Diego Bayfront. Winners must be present to receive prizes.
The deadline to enter the Celebrating in your Kitchen with Goya video recipe contest is July 15, 2023.  The top three winners will receive cash prizes and be invited to the "Celebrando Latinas" women's conference where over 1,000 women are expected to attend.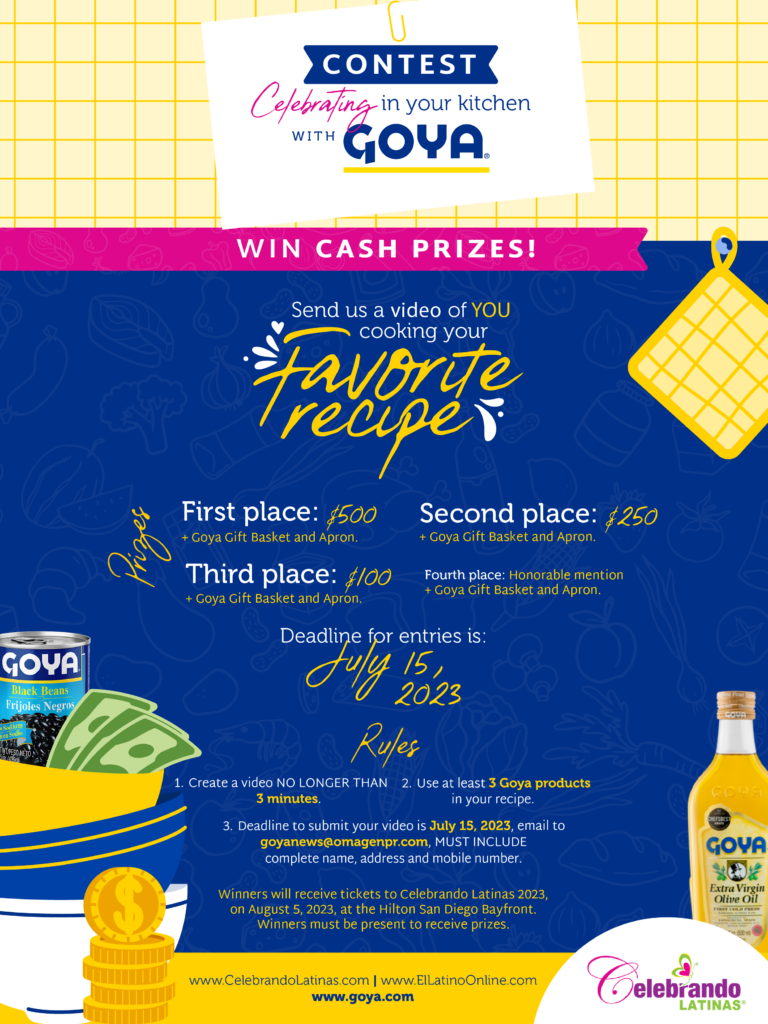 The prizes are:
· First place: $500 + Goya Gift Basket and Apron
· Second place: $250 + Goya Gift Basket and Apron
· Third place: $100 + Goya Gift Basket and Apro
· Fourth place: will receive an honorable mention + Goya Gift Basket and Apron
These are the rules:
1. Create a video NO LONGER THAN 3 minutes.
2. Use at least 3 GOYA products in your recipe.
3. Deadline to submit your video is July 15, 2023.
Email to goyanews@omagenpr.com,
MUST INCLUDE complete name, address and mobile number.
About Celebrando Latinas
Celebrando Latinas is an annual conference now in its seventh year, designed for women and teens to focus on their well being in a fun and supportive environment. Over 1,000 women participate making it the largest event of its kind in the U.S., in Spanish. Attendees enjoy speaker presentations and workshops on topics including health and beauty, technology and business, pampering with mini makeovers, makeup demonstrations, free health screenings, cooking demos, a bit of shopping and much more. For more conference and contest information visit: www.celebrandolatinas.com or call 619-426-1491.
About GOYA: About GOYA: Founded in 1936, Goya Foods, Inc. is America's largest Hispanic-owned food company, and has established itself as the leader in Latin American food and condiments. Goya manufactures, packages, and distributes over 2,500 high-quality food products from Spain, the Caribbean Islands, Mexico, Central and South America. Goya products have their roots in the culinary traditions of Hispanic communities around the world; the combination of authentic ingredients, robust seasonings, and convenient preparation makes Goya products ideal for every taste and every table. For more information on Goya Foods, please visit www.goya.com