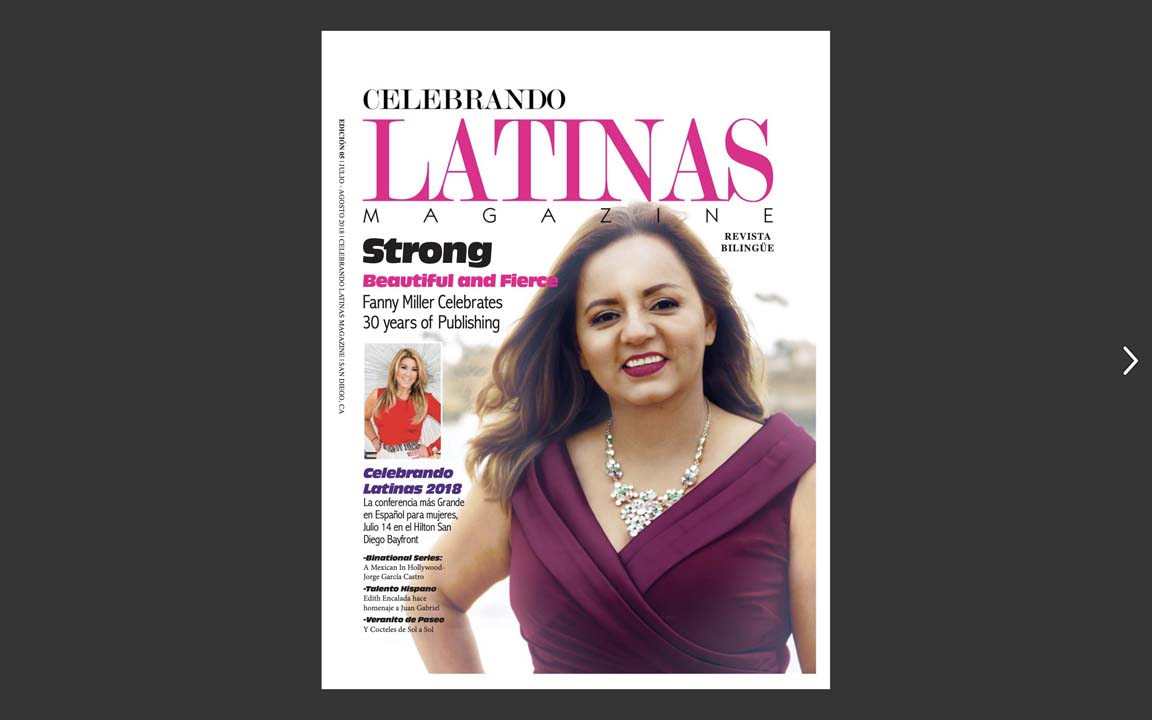 Celebrando Latinas Magazine Ene-Feb 2023
17 enero, 2023
¡ Feliz año nuevo!
19 enero, 2023
SAN DIEGO/TIJUANA.-Fanny Miller and Saida Muriel, directors of the magazines Celebrando Latinas and Mujer Actual, respectively, have united their passion, experience, and tenacity to offer readers, customers, and potential advertisers, a new way to communicate across borders.
Through this joint effort, we seek to create a social force where each reader becomes a supportive link aimed at the Latina population.
Fanny Miller has directed El Latino, a San Diego-based Spanish-language newspaper for 35 years, which has ranked the top Spanish-language newspaper in the San Diego Region. Miller has been recognized as one the most successful woman in the industry.
Miller is the Founder of the Celebrando Latinas Conference, an event designated especially for Latinas, which has been recognized as the best in the country since 2011. It is a day to learn, become inspired, and be pampered.
She furthered her commitment by launching Celebrando Latinas Magazine where she blends the dialogue and actions of the Conference through articles and interviews that uplift the community. Saida Muriel, a Tijuana native, wife, and mother of three children, graduated from the University of Iberoamericana in Tijuana with a bachelor's degree in Communication. She attained a master's degree from the Higher Institute of Marketing in Barcelona, Spain, and has more than 25 years of experience in mass media, such as radio, television, and written press.
Muriel founded Mujer Actual Magazine in 2007, and recently celebrated its 15th anniversary.
As a woman committed to her community, Muriel has been national life and the needs and concerns of a unique community which will offer valuable topics through sections such as Binational Women, Latina Business, Women of Power, Self-Care, Health, In her shoes, Women who Inspire, and more.
"What we seek is to report on the critical issues that affect women Latinas through educational, motivating, and uplifting involved in altruistic causes for years, being an honorary advisory member of the Boys and Girls Club of Tijuana, from the Castro Limón Foundation.In 2016. She was recognized by the Congress of Status as one of the 50 exemplary women of Baja California.
Both Miller and Muriel are women from the border region who understand the dynamics of bielements, as well as through an exchange of experiences in the physical, emotional, mental, economic, family, beauty, fashion, and culture, always celebrating our unique characteristics as Latina women," said Miller.