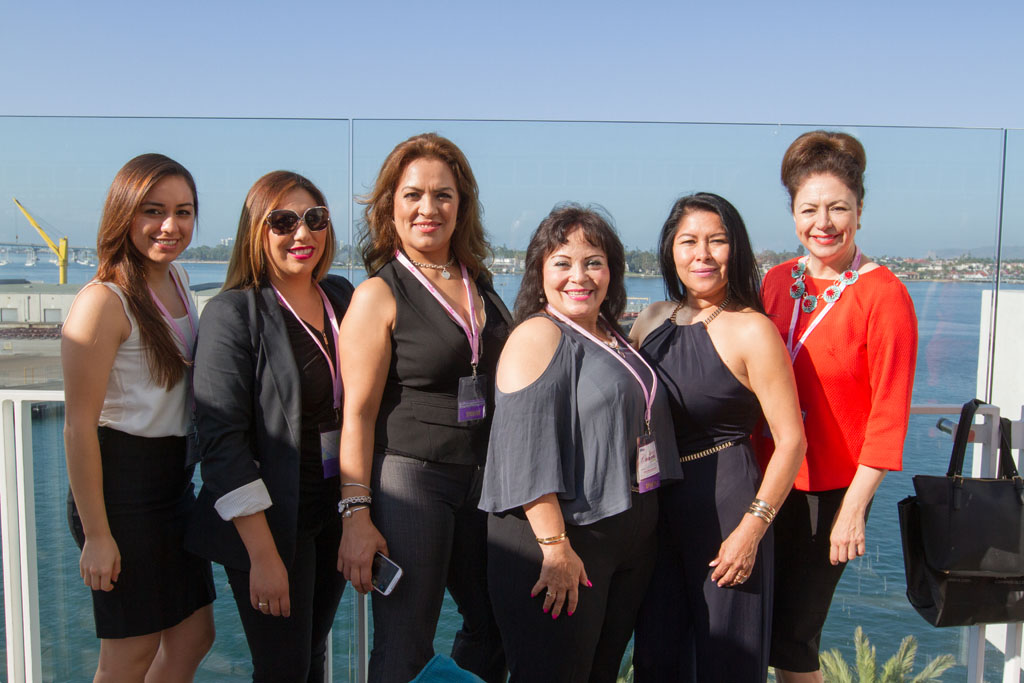 FASHION. Primavera- verano 2021, las tendencias que debes conocer
19 marzo, 2021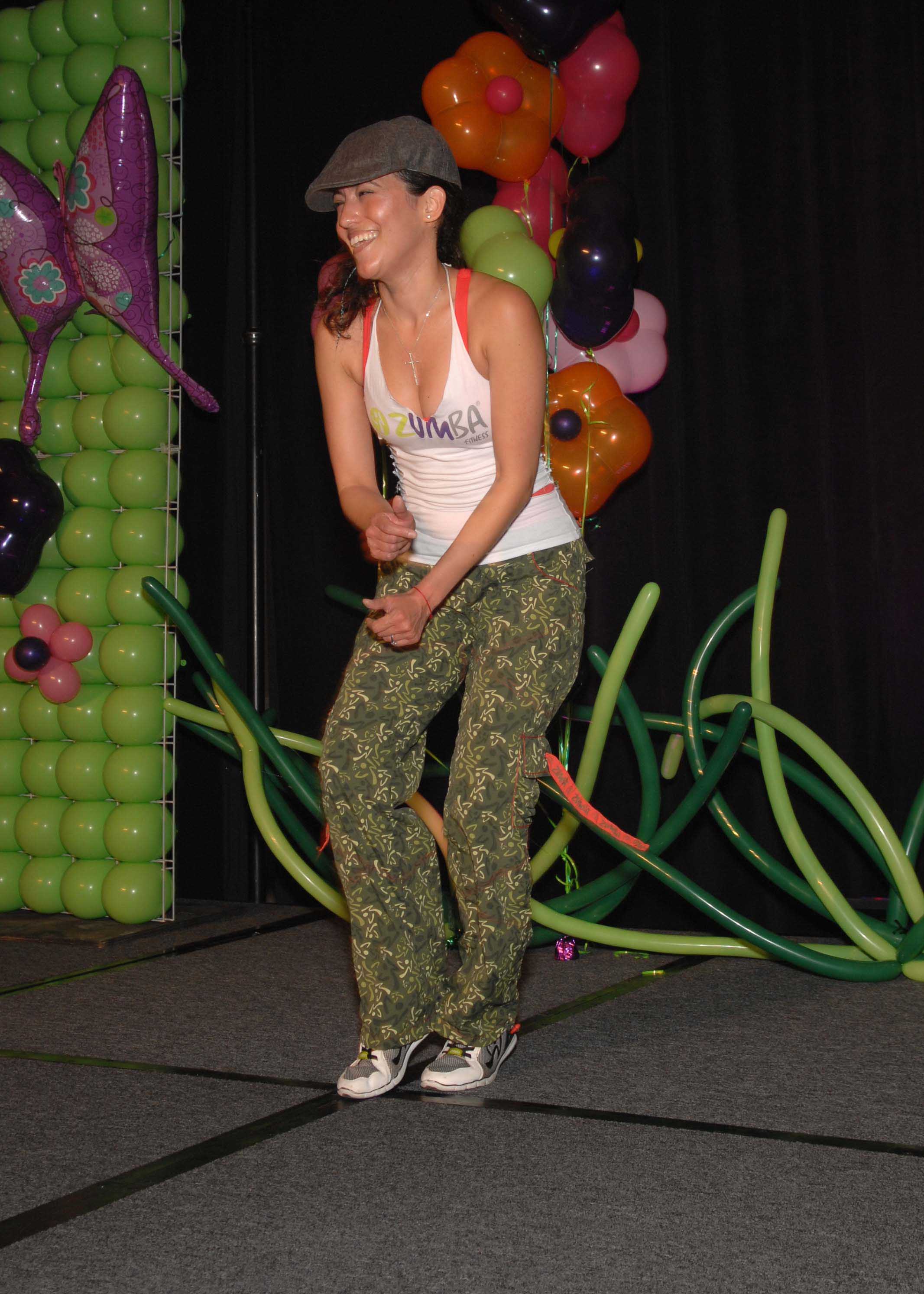 GUADALUPE GUILLEN, logros del corazón
14 mayo, 2021
Azucena Maldonado- Changing the Face of Golf
The world of golf has traditionally been set apart for men, in particular for affluent white men. In many parts of Latin America, it is still a very male dominated sport, but not if the founder of Latina Golfers Association, Azucena Maldonado, has her say in it. Born in Monterrey, Mexico and raised in Houston, Texas, Azucena is a strong Latina with deep Hispanic roots. Never in a million years did she think she'd be remotely involved in the golf industry because she was never around the sport, or anyone in it as is common for the vast majority of Hispanic families. Today, Azucena is a force of nature that, like a hurricane, has flooded the world of golf with Latinas.
We caught up with Azucena this Spring to learn about the place of Latinas in golf today and how she has managed to move the needle when it comes to increasing the presence of Latina players both on the course and on the corporate boards.
Crossroads
Fifteen years ago, in her hometown of Houston, Texas, Azucena found herself starting her life all over again. An entrepreneur her entire adult life, she was at the peak of her professional career as the owner of a video production and marketing company, yet she had a yearning to start all over again. Her best friend and mentor, Nancy de los Santos, a very successful Latina producer, writer and director responsible for productions such as the Selena movie, had advised her to move to Los Angeles on many occasions. Azucena admired Nancy and was always intrigued by this proposition, she liked California and knew a few people there and so at this crossroad she finally made the move.
Even though she knew a few people in the world of production and film, she was still not very involved with the social circles, but this was going to change rather quickly. After just about one month of her arrival in Los Angeles she met Miguel, a Cuban golfer who would capture her heart through golf. While only on their second date he took her to the golf course and bought her a putter golf club- and on the putting green her passion was awakened.
"Even today I recognize him for teaching me and for opening up my world to golf, and even though that relationship only lasted three years, I still run into him at golf courses and I take every opportunity to thank him."
Before this day her golf experience extended to a handful of miniature golf games with friends, and that gave her just the right confidence to know that she could do this. From that point on she was hooked, and her companion was anxious for her to learn.
The Grit to Succeed
For those three years in her life she was intensely immersed in the sport, watching tournaments on TV, going with Miguel to the course three times a week, and going to the driving range and the putting range on her own. He would drill her endlessly so that she learned golf etiquette, techniques, rules and all the fundamentals of golf. She would practice on her own, and on the weekends she would go to a small golf course, what is called a 3-par, until she graduated to the 18 hole golf course. Her persistence and determination to learn the game, and learn it well, soon paid off. She was now playing foursomes with Miguel and his golf buddies. Because she learned golf at that level, with real golfers, it was like on the job training. Of course she made mistakes and they sure corrected her, but she loved it and that is all she wanted to do- and because she was new to Los Angeles, golf became practically her life.
During the day she was working in a cultural arts institution, she loved art and latino art culture; with her strong background on production she was the perfect fit to produce a very special event for them, she was in charge of their Día de los Muertos event. She loved her new role where she could share her passion for her Hispanic heritage and art. This was a wonderful way to land in LA, she was doing the two things that she loved: playing golf and producing- She was at a great place, and she could not ask for more.
The Business of Golfing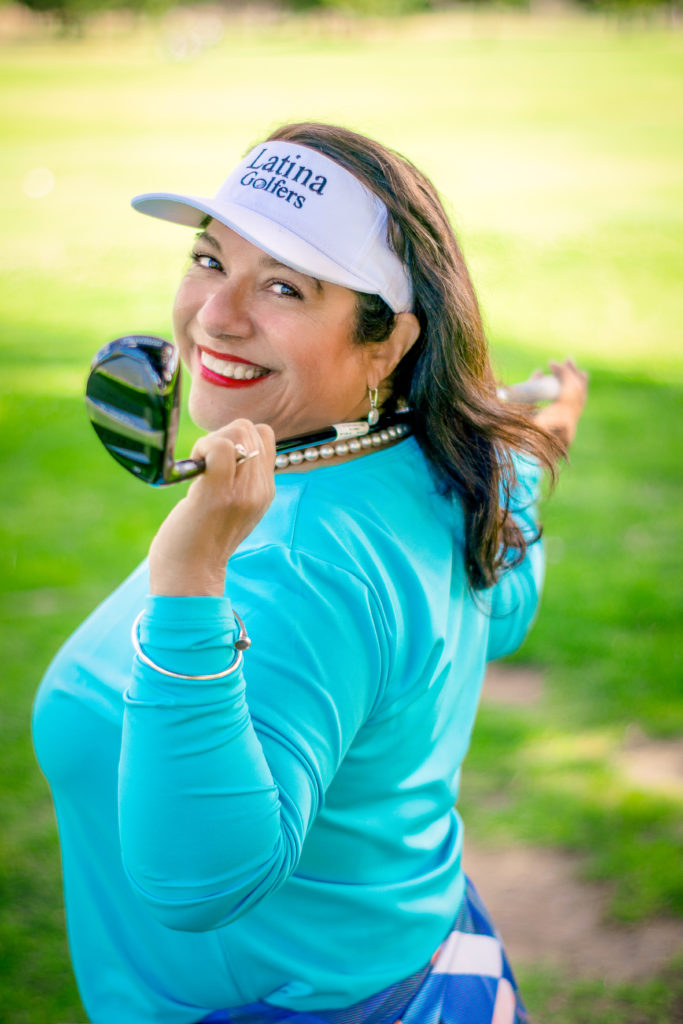 Azucena's new life was beginning to take shape, she was meeting more people in the Latino community and beginning to grow her network. Then one day she was invited to a charity golf tournament, not knowing exactly what that entailed she attended, and when she walked into that tournament event she felt like it was Disneyland for golfers. All kinds of golf activities were going on, beautiful golf courses, she was meeting all kinds of people from elected officials to community and business leaders. People she knew of but never personally met. At this event something unique happened, she was being introduced as Azucena the golfer, and that moment truly shaped the rest of her story.
"This is when I realized something, se me prendió el foco. I was seeing these people at other events, chamber events and community events, and they would recognize me as a golfer, because we played golf they were inviting me to play with them. It would have taken me a very long time to relate to them and get to know them, but because we golfed together we were immediately familia."
As she got invited to play golf with these business leaders, she would go to the golf tournaments and this created a camaraderie among this new network, fostering business relationships and a feeling of familia where they welcomed her and opened their world to her. She also noticed there were very few women playing, maybe five in a sea of one hundred men. Her reasoning was that they did not want women around, that it was really a boys club. But then they would ask her to bring her friends, to bring others to play a foursome and it dawned on her that she did not know any Latina golfers. And she realized that it wasn't that they didn't want women there, but that women were not there, we were not showing up.
"They were inviting us and I had nobody to invite."
She knew she had to do something and with the help of her friend Nancy de los Santos, in 2008 they decided to create Latina Golfers Association. She got a website, an email and then she just started emailing her friends. Within only 6 weeks she hosted a golf event for Latinas at a golf course. She managed to get a couple of sponsors, invited now Pro-Golfer Lisette Salas and with no real plan in mind she launched the event successfully with 94 women in attendance.
A Network of Comadres is Born
It's been 13 years since she began this journey, the success that Latina Golfers Association enjoys today did not happen overnight. She had to learn on the road, she built the programs around the needs of the members.
"It is always a mission for me."
LGA was created in the midst of the 2008 recession, nobody was funding anything in the golf industry. What at first seemed to be an obvious choice, to make LGA a non-profit, since it is a socially driven organization, it would not have survived the recession. Still, she really wanted to do this, she felt incredibly passionate about it, so she just did it. This membership organization is completely free to join, Azucena refuses to charge even though people think she's crazy. But she has never done it because she wants everybody to join. It was never the money that drove her to do this. LGA currently has over 2,500 members in Southern California alone, with a network of women leaders that range from elected officials, corporate leaders, women who sit on boards and commissions and business owners. Women who are also mothers, daughters, aunts and friends- in one word: Comadres. Golf is just the beginning- she discovered a land of bountiful opportunities and set out to create a bridge for all Latinas, girls and women, to be part of this world that opens doors, enhances their careers and their personal lives. We Celebrate Azucena Maldonado for her vision, her grit and her immense heart for the community!