Back Stage
25 septiembre, 2019
Latinas Night Out
25 septiembre, 2019
Olivia Graeve- The girl that Built an Academic Bridge Between Mexico and the U.S.
Olivia Graeve has always lived in the San Diego -Tijuana region, she was born and raised in this binational-bicultural ecosystem that only those who live here can understand. While the entire world can look at this environment from a political perspective, the reality of its interwoven fabric can only be lived. The power of this young Latina scholar comes from an upbringing mix of science and social responsibility. In her early school years she realized she had a strong aptitude for math, and during middle school she discovered her love for chemistry- her chemistry teacher noticed and nurtured her interest, making sure to always encourage her to reach for higher levels of science. This teacher's impact has never left her, and thanks to her Olivia knew at a young age that she would pursue a career in science.
In the late 80's, her High School years, a migration movement of thousands of people from the south came to the border looking for hope – very similar to the recent migrations of South American refugees. Her school had the opportunity to help, and a group of students took food and living essentials to the encampments. At that time she looked at the improvised huts where they were forced to live and she felt the urge to do more. "I can become a structural engineer and help build small cottages for these people" she thought to herself. After finishing High School she set out to study Structural Engineering at UCSD, but realized her passion was chemistry and went on to earn her doctorate in Hazardous Materials Engineering. At her research lab at UCSD, where she now works, she specializes in designing and engineering materials for extreme conditions, such as heat, radiation and extreme impact.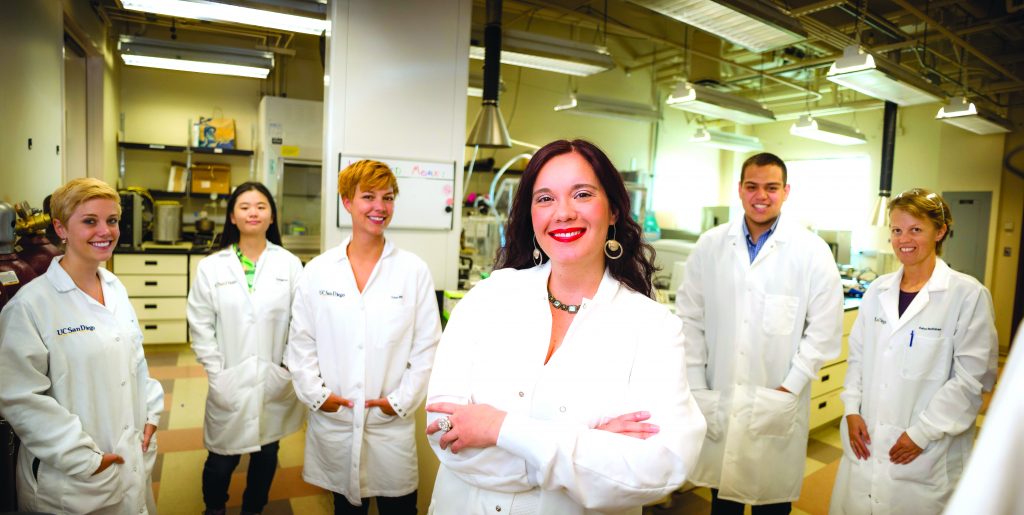 In 2013, only 6 months after starting her job at UCSD she launched ENLACE, a High School level – study abroad program. This seven-week program was created exclusively to promote science careers for young students by exposing them to a research lab where they would conduct real research under the guidance of UCSD's top faculty. This ambitious pilot project began with only 5 students- all of them girls from Tijuana.
The challenges Olivia faced were immense, she had to overcome cultural biases from hispanic families where young women don't leave home for that long unsupervised, educating the families as to the benefits of this program as well as reassuring them that the girls would be in a safe environment was no easy feat. She also faced legal roadblocks, such as visa approvals, minor permits, international insurance matters. But Olivia had her eyes on the prize, perhaps because she knew that if she had gotten this opportunity at that age it would have meant the world to her.
UCSD gave her their full support, backing her up in any area that she needed, funding, resources and their prestige. And so the program began, and Olivia made sure it succeeded. The program has grown from 5 girls from Tijuana to 120 recently graduated alums from both sides of the border, and from all over Mexico. Even now, 70% of the enrollment is Latinas, an important statistic for our girls to understand. There is room at the top in the field of sciences, and it is there for the taking. Today, the program has expanded its presence so much that partial scholarships are awarded thanks to UCSD and many industry leaders of the private sector. This year's participants presented research projects that ranged from stopping power of intense proton beam produced in short pulse high intensity laser matter to identifying privacy leakage from smartwatches and smartphones due to BLE advertisements.
This academic exchange is a significant effort in the sciences, and never more relevant to today's political environment where the world is focused on building walls instead of bridges. Olivia understands this, and is passionate about making sure the world hears the message loud and clear through the success of programs like hers.
"The ENLACE program is providing students educational opportunities that will make them bi-national, cross-border citizens that are attuned to the particulars of our home. Citizens who understand that there is no wall between us. That we are a community and that can live, work and grow together. I have this expectation and I have this hope. Hope that we can build something extraordinary, with kindness, compassion and respect for others. Hope that we will eliminate borders and bring down walls." -Olivia Graeve
Details on this program and the new application for the 2020 cohort can be found at http://graeve.ucsd.edu/ENLACE, the deadline to apply is February 7, 2020.